In a world dominated by people trying to lose weight, I've always had the 'enjoy life' philosophy. However, recently, my mind has switched slightly - a curious jump on the scales 9 days ago revealed that I'd weighed more than I ever have done, so there was only one thing for it.
Now, as far as my eating & drinking habits go, they're not the best, I like my junk food, I like processed food, I enjoy a lot of wine, but don't smoke, and rarely exercise, so things were set to change!
I decided on the Monday (which was a Bank Holiday) that from the Tuesday I'd set myself a challenge, and that challenge would be to go out jogging/walking every weekday morning, power walks at the weekend, cut out wine, and improve my diet, and the target - to lose a stone (14lbs) in the 28 days.
This was a tall order for myself, as it would basically mean a complete shift in what I normally ate, drank, and a change also in my lifestyle, but I was prepared to do it, and the mindset would be that if I could shift a stone, then I'd try and maintain that weight, or lose more, but with the morning jog removed from my plan after the 28 days.
Now, I'm normally up at 5.30am each morning, and spend an hour on the PC whilst woofing down my breakfast watching Sky Sports News, before then getting ready for work, and leaving the house at 7.45am.
So, a massive change to my morning routine, I decided that after a quick shave, I'd go out at
6am for a morning run/walk
- now someone my frame would struggle to just go out and run full stop, so it would be a mixture of both jogging and walking. I didn't want to end up passing out after one run up the road and requiring an ambulance!!!
Move over, wide load coming thru!
So, Tuesday morning, and the first jog on Day 1 of my challenge, I set myself a small target of getting so far before having to slow down to walking pace, and every morning since I've tried to go that little bit further before stopping, and it seems to be working.
The total mileage I'm going out to jog/walk is
1.5miles each day
, and I probably make it to half a mile before stopping. This really is small steps you know.
Tuesday night, and time for the first healthy meal - all I had was a Jacket Potato and Beans, remember I'm much more used to a bigger meal, so looking to reduce the size of my meal portions.
As mentioned above, I'm a bit of a wine drinker, and probably guzzle something equal to 6 glasses of wine a night - so my decision to cut it out completely would be a hard one, but one where I could prove to myself I was not addicted to it, and also that I was up for it, and so far not a drop has been touched.
Wednesday morning, and the new routine was followed, whilst listening to a bit of Chase and Status whilst out running, that helped a little - although I'll probably suffer now with tinnitus!
Whilst having Cornflakes in the morning I do tend to have toast at work, so that did continue, but it also helped cover my lunch, and I have also taken to drinking plenty of cups of water - having that in my
Chester FC
mug certainly helps drive me to drinking fresh water each day!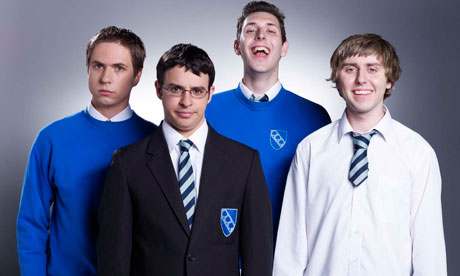 A welcome distraction!
Wednesday night consisted of a visit to the cinema, where I would normally have been tempted by the smells of sweet sweet popcorn, or a bag of maltesers, but I breezed straight past those and into the screen that we were watching The Inbetweeners in! Although I do have to confess here, due to finishing work later than I'd planned, there was a purchase of 6 nuggets from the nearest Golden Arches!
Thursday was another long day at work, as I had to get a project completed, and so it was a relaxing night, with a couple of poached eggs on toast the order of the day.
The routine was pretty much followed with little or no treats allowed, as I was being pretty strict on myself during the first few days to get myself well and truly into it.
These have got to be wrong surely?
I was going to leave it until the first week of the Challenge was complete before weighing myself, but I gave in to curiosity, and decided to have a look on Friday morning, and was made up when I saw that I'd lost 8lbs in the first three days - I certainly wasn't expecting that, so that gave me a lot of confidence that it was working - I told people about my challenge too as I felt that if I went public with it, I'd have to ensure I did it so naturally I shared my weight loss news, but this was just the start of the plan still.
I'd created a spreadsheet for myself which showed how much I'd have to lose each week during the Challenge, and it shows that I need to lose half a pound each day - doesn't sound like much from the outset but I guess it will become tougher as time goes on!
So, well ahead of schedule then, I decided to not go running on the Friday morning as my leg was pretty sore, so didn't want to push it too much, but did go for a walk later on on the Friday evening. The meal that night was a return to Jacket Potato and Beans!
I'd planned not to go running at the weekend, as I felt quite self conscious so kept the jogging times to early morning in the darkness, and I believe that is a good time to burn off calories, well that's what I've been told anyway!
So, the Saturday morning I instead took the dog out for a walk - we had him overnight from his usual place of residence - so I took full advantage of that by getting out and walking with him. One of the biggest tests for me was at Football on the Saturday afternoon, where I'd normally have to have a burger or a sausage bap, but I declined, breathed in the barbecue smell and moved on.
I even avoided having a pint after the game, made it a lager shandy instead!
Following the match I went home where my fantastic wife had made me a chicken breast and veg - now veg is something I don't normally eat either, so I've now added this in to my diet too. Drinking on weekend nights was always a must for me, but once again I sat there watching Saturday night tv drinking pints of water instead!
Sunday is always a lazy day for us, but with the weather looking good, it was a chance to get out, and so myself & the wife walked around the famous Chester Walls, which is about a 2 mile walk, and at the end we rewarded ourselves with a cold drink at a pub by the river, nothing alcoholic, but just refreshing.
Our afternoon tea was only a light one even though we'd worked up an appetite from the walk, so for me just a couple of chicken chargrill fajitas, one chicken grill, 2 wraps.
No,really I'm not!
Sunday night was a bit of a challenge, and I have to admit that I did succumb to another box of
6 nuggets
from McDonalds, but felt the guilt after eating through those so knew I'd have to step it up again on the Monday.
Monday came, and once again I returned to my early morning jogs, this one took a bit out of me given I'd had 3 days away from doing it, but do it I did, and felt better for doing it, and once again continued to run longer before stopping.
Monday was always going to be tough too, as after work I'd have about an hour before I have to then head out again, so a small meal this one, which turned out to be a pot of sweet and sour rice from Uncle Bens!
This then completed the week as far as the first 7 days of the Challenge were concerned, and so the first 'official' weigh in took place, and it showed that on top of the 8lbs I'd lost by Friday, I'd shed a further 3lbs, so a weight loss of 11lbs in total - really made up with that and close to my target already, although I knew that the next 3lbs could be the hardest to lose, so under no illusions as to the task.
The weather was rubbish yesterday morning, with a swirling wind and one that was slowing me up, so I have to admit that I didn't quite get as far before stopping yesterday, but for the first time I was using the app 'Runkeeper' on the iphone, and so I'd set myself an idea of what time I needed to beat tomorrow.
Tuesday's meal consisted of
2 Chicken Fajitas
again, and with the England match on, it was difficult not to have a alcoholic drink, but managed to stick to water again, so job done for the evening.
I went out running again today but my body frame felt a bit sore, but still carried on, had to stop short of what I'd previously set myself last week as a slow down/stopping point, although it was still further than yesterday!
So, what have I changed in the first week of the Challenge from what I'd had before?
Jogging/Walking 1.5 miles each weekday morning (6am)

2 miles walk on both weekend days

Given up alcohol

Drinking lots of water

Reduced my meal sizes

Improved diet
I've got 19 days left on the 28 Day Challenge that I set myself, and hopeful that I can get shut of that 3lbs in the next few days before I weigh myself again next Tuesday morning.
So, if you're like me and pretty much set in your ways, but fancy giving the self titled 28 Day Challenge a go, then take it from me, it's hard work and requires plenty of will power, but rewarding as you go along.
People have even said that they can see the difference in me - I can't, but if others can, then that's a great start!
I'll be back blogging about this next Tuesday after week 2 of the 4 weeks has been completed.
Hope this gives hope to some people out there that even if you feel you can't do something about your weight...you can.